At older age,its always important to manage the personal finance life.Limited earning resources , health are the general concerns.
Today we will throw some light and must do things for senior citizens.
Consolidate Bank Accounts:

Its very important to close unused / not much used saving accounts.Consolidate bank account numbers up to 1 or max 2  and preferentially  opt for nationalized bank. Same thing applicable for fixed deposits.Don't keep deposits spread across large number banks or large number of branches.Having minimum accounts will help to manage the finance easily.

Invest in high liquid plans Only

: Chose to invest your money only in high liquid instruments like fixed deposits where withdrawal may not be hassle.Unit linked insurance plans – ULIPs, PPF are not worth for senior citizens.Instrument should able to provide you the regular income or withdrawal whenever you need it.

Prefer convenience.

Buy health insurance:

Mediclaim can be bought up to age of 65 years and it can be renewed life long without any break.Though pre-existing illnesses are not covered for first 2-3 policy years it will be a good bet to opt for mediclaim.Premium for 2L sum insured will come around Rs.9,200 (STAR Health Senior Citizen Red Carpet policy)..If any one afford this premium ..can think to go for mediclaim.

Make A WILL

: This is the best time to go for a WILL.It will help to avoid the conflicts among legal heirs..Remember that WILL need to be registered for its legal validity.One can take help of good lawer or if you don't want to believe any individual ..can take help of organization like Bank Of Maharashtra Trustee Company which can help you to draw as well to execute the WILL.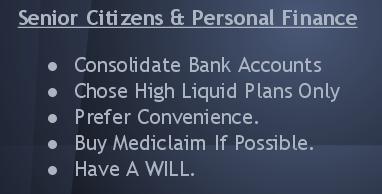 Managing finances is much important at old age and I think above mentioned points would certainly help.