As name "Monthly Income Plan" indicates,these plans are aimed to provide the monthly income to investors.Such plans are provided by banks,post offices as well from mutual funds.Though objective of such plans is to provide monthly income functioning of plans varies from banks to mutual funds.
Monthly Income From Banks / Post offices:
"Monthly Income Plans" from banks or posts can be well defined as "Monthly Interest Plans".Under these schemes,depositor keeps a lump sum deposit at bank / post and Bank will offer depositor interest payout with monthly frequency.Maturity amount will be of course principle only.
Interest rates are fixed..amount of interest , date of interest …each & every thing is predetermined.Currently bank offers an avg rate of 9%  while post office offers 8.40% per annum ..payable monthly.
Bank MIP Illustration:
Suppose a depositor kept deposit of Rs. 5 Lakh , for period of 5 years and interest rate of 9% under monthly interest income plan.Then he will receive monthly interest of Rs.3722 ..(Here we suppose that no TDS is deducted…if TDS is deducted then interest credited will be after deducting TDS.)

This amount will be credited in saving bank account.Please note that Few banks may deduct TDS on quarterly basis or annual basis.
If tax is not deducted at source,its depositors duty to pay tax as per the tax slab.
Monthly Income Plans from Mutual funds:
"Monthly income plans" from Mutual funds can be well defined as "Monthly Dividend Plans".These plans generally declare dividend once in a month…though monthly dividend is not guaranteed there are less instances where dividend is not declared.These plans can have equity exposure in the range of 0-30% and so principle amount does not remain constant but it will vary.
As far taxation is concerned,mutual funds are liable to pay dividend distribution tax of 25% and its tax free in hands of investors.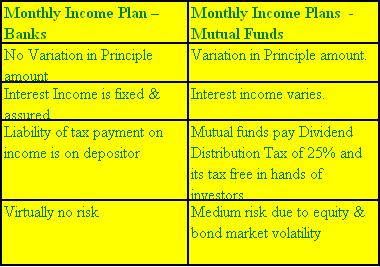 Which is better:
It depends on the nature of investor.If investor is completely depend on the monthly income then monthly interest plans from Banks are suitable for him.While Monthly Income Plans from mutual funds are hybrid funds with marginal equity allocation up to 20-30%.These funds intend to offer stability of fixed income as well dash of equity.Mutual fund MIPs are suitable for investors having holding period of at least 02 Years or more.