Mid cap oriented Mutual funds:
As name suggests, these funds have mandate to invest in mid cap or mid+small cap stocks.
Due to high growth potential, such stocks can offer higher returns over blue chips, of course with commensurate higher risk.Also wide spectrum of stocks are available in mid cap space,so its also subject to stock selection risk from fund manager.
Wealth created by Sundaram Select Mid cap since its inception of 2002: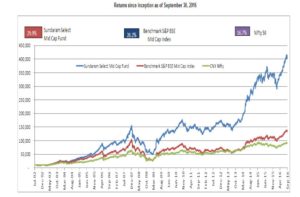 Performance of Sundaram Select mid cap against BSE mid cap index & Nifty.
[If you want to see enlarged image then click on it.]
If you are long term investor then check if there is special mid cap fund in your portfolio.If not,then take help of an advisor to choose fund which can suit your portfolio.
Please note: Past performance indicates what you have missed in the past and its not necessarily indication of future performance.Fund -Sundaram Select mid cap chosen for example and not necessarily as advice.