After success of its maiden public NCD issue of 4000 Crore, DHFL has come up with one more issue of 10,000 crore.Company will paid annual interest on NCDs for a tenure of 3 Yrs,5 Yrs and 7 Yrs as opted by investor.
DHFL is deposit taking Housing Finance Company (HFC) regulated by NHB – National Housing Bank which regulates,refinance & supervises HFCs conducting business in India.
Details of DHFL 10,000 crore NCD issue are as follows:
Important Dates:
Issue open date: Aug 29, 2016.
Issue close date: Sept 12, 2016.
Interest Rates:
Interest paid in this issue will be annual only.coupon rate for HNI and Retail individual investors are as follows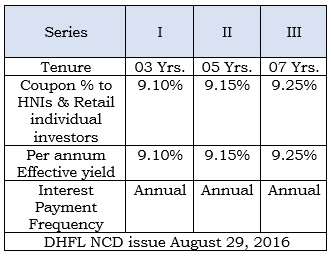 Other details:
Credit rating

: "AAA" from CARE & BWR which indicates higher safety regarding timely servicing the financial obligations, as well it allow company to access debt financing at competitive rate of interest.
30% each of NCD issue size  reserved for HNIs and Retails individual investors.

Taxation

: Interest received will be added in debenture holders total income & taxed accordingly.If NCDs are held in physical mode & interest paid is above Rs.5000 then tax will be deducted at source.For NCDs held in demat mode no tax will be deducted at source but its taxable.If NCDs are sold in secondary market then appropriate long term or short term capital gain tax will be applicable.

No put or call option

:Neither company nor investor will able to redeem NCDs before maturity. NCDs held in demat mode can be sold in secondary market at prevailing yield.
Security :NCDs will be secured by company by creating a first ranking pari passu charge on specific receivables of the issuer for the principal and interest thereon.
Financials of DHFL: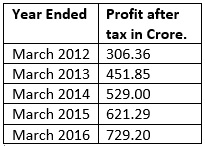 DHFL NPA Details:

Most of the Housing Finance Companies have able to maintain their NPAs below 1% which indicates robust asset quality.
Should you invest in DHFL NCD or not:
This is individually customized decision considering individual credit risk profile.Considering credit rating,secured nature of issue & over all performance of company investor can think to invest small part in this issue.Its suggested to invest if you can able to hold NCDs till its maturity and investing just for listing gains may not be a good idea.