My friends uncle retired recently.He has received retirement benefits of nearly 40 lakh.
He want to make some provisions of monthly income (Rs.40,000 per month)throughout retired life.Now he has following options to get periodic income benefits.
Senior Citizen Savings scheme (Quarterly income).
Fixed deposit – Non Cumulative.
Immediate annuity from insurance company.
Periodic dividends from mutual fund scheme.
SWP – Systematic withdrawal Plan from mutual funds.
To get monthly income of Rs.40K from fund value of Rs.40 Lakh one need to get yield of 12%.Any safe,fixed income product can not offer 12% yield so investor don't have other option but to withdraw some part from principal also.
Here we will take view of 5th option -SWP : Systematic Withdrawal Plan where part of fund value will withdraw periodically.
What is SWP:
SWP is just opposite to SIP where investor takes fixed money out periodically over a period of time.This facility can be used to fulfill monthly requirements like for monthly income in retirement years, loan EMIs etc.
Units from scheme will be redeemed monthly at prevailed NAV and money will be credited in investors saving account.
Example of SWP:(Last 10 yrs)
Scheme:

ICICI Prudential Balanced Fund.
 

Date of investement:

April 01, 2006.

Amount invested:

Rs.40 Lakh.
Monthly withdrawal: Rs.40,000.
Then Units and fund value in Month of APRIL of each year will be :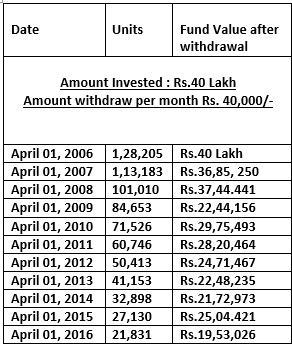 Amount invested: Rs. 40L

Total Amount withdrawn: Rs. 48L

Current Value:Around Rs. 20L
One can view that number of units will be redeemed each month and units will go on decreasing.
So key benefit is that monthly income needs are fulfilled.
But risk is that principal will not be protected.There will be withdrawals when market is down.If market consistently remains down then principal value can vanish earlier.
So, Its O.K. to go with SWP from Equity / Balanced fund  if you have created wealth from market itself otherwise opt this facility if you agree with fluctuations with principal value .
If one can compromise with needs  then go for  safe,fixed income  options listed above or very low risk options like liquid,ultra short term funds.Its always  better to optimize the needs, isn't it?