DS Kulkarni  - DSK Developers – NCD Issue August 2014 .
Company will raise Rs.100 crore with option to retain over subscription of same amount – total aggregating Rs.200 crore.
DSK is listed at both NSE and BSE with current market cap at about 177 crore and networth about 501 crore.
Imp Date:
Issue Open Date: August 04, 2014.
Issue Close Date:August 26, 2014.
Security :company will provide security cover in term of Land – covering principal and interest amount at any point of time by creating charge in favor of debenture trustees.
This issue offers different interest payment frequencies like – Monthly,Quarterly,Annually and Cumulative.
Monthly Interest Option:

In this option interest payment frequency will be monthly and Tenure will be 84 months.Coupon  rate for General public is 12.75% and 13% for other investors like DSK employees,Senior Citizens,Equity holders,Women investors ,Servicemen ,Ex-servicemen.
Quarterly Interest Option: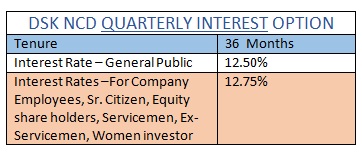 Tenure:36 Months.
Coupon Rate For General Public: 12.50%
Rate For other preferred investors:12.75%.
Annual Interest Option: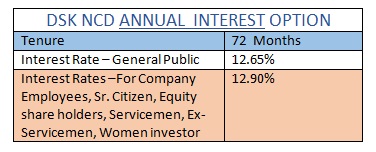 Tenure:72 Months.
Coupon Rates:12.65%
Rate for other preferred investors: 12.90%
Cumulative option:
Principal and interest payable at maturity with yield of 13.43% CAGR.Redemption amount will be exactly doubled for this option after 66 months.
Profit of company since last 05 Yrs: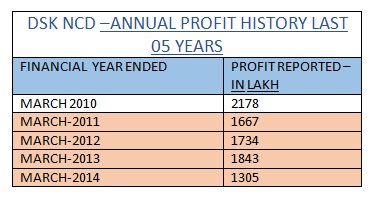 Is Premature withdrawal Possible:
There is no call -put option available.so neither company nor investor would have exit except maturity.Investors who have opted for physical mode will not have any exit option except maturity.For demat mode,NCDs are tradable at BSE and can be sold online if buyer is available for the same.
Credit Rating : BBB+ Which indicates medium safety of issue.
Credit rating is generally decided based on past,present and future fundamentals of company.Whole real estate sector have went through trouble since last few years.DSK is well known trusted company and I think there won't be trouble if one invests small amount in this issue.