Non-banking finance arm of Mahindra Group – Mahindra finance will raise Rs.2000 crore through unsecured,subordinated NCDs. Interest will be paid annually with coupon rates ranging from 7.85% to 8.05%.Demat mode is compulsory to invest in this NCD issue.
Details of Mahindra Finance NCD issue July 2017 are as follows:
Imp Dates:
Issue Open date:July 10, 2017.
Issue Close date:July 28, 2017.
Interest/Coupon rates:
For HNIs and Retail individual investors: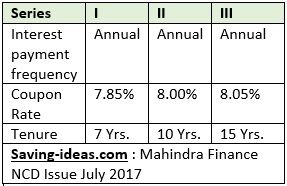 Other Details:
DEMAT mode only:

Issuance of NCDs will be only in demat mode.

Credit Rating: 

BWR AAA / IND AAA.Both indicated highest rating.

Listing:

NCDs will be listed at BSE

Call option

: Company can use Call option for NCDs of 15 yr tenure and can redeem them with 10 yrs option.But there won't be put option from investors side.They can sell NCDs in secondary market only.