//Please note Edelweiss issue will be preclosed on March 02, 2015.
Edelweiss Group's – NBFC [Non Banking Finance company] arm ECL Finance has come up with Secured NCD issue which will open on Feb 26, 2015 and will close on March 16, 2015.
Company is looking to raise Rs 800 crore through NCDs.
This issue offers different investing options for tenures of 36 months and 60 months like – Monthly Interest, Annual Interest or Cumulative Option where principle and interest will be payable at maturity
ECL Finance is promoted by Edelweiss Financial Services company Ltd which is listed company at both BSE and NSE.
Important Dates:
Issue Open Date:Feb 26, 2015
Issue Close Date:March 16, 2015.
Security : This issue will be secured and company will create charge over physical asset and specific receivables of company in favor of debenture trustees of the issue.
Credit Rating :AA by CARE which indicates higher safety of this issue.
Investment Options: As already stated this issue offers different investment options for tenure of 36 and 60 months with monthly,Annual interest payment and cumulative.
Tax Deduction at source: TDS will applicable for physical mode and tax will be deducted at source if interest in financial year crosses Rs 5000 and if 15G or 15H form is not submitted.
Monthly Interest Payment Option:
Interest will be payable monthly.Here interest will be variable and depend on number of days.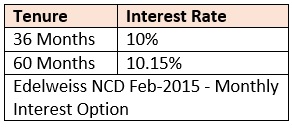 Annual Interest Payment Option: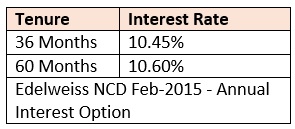 Cumulative Option: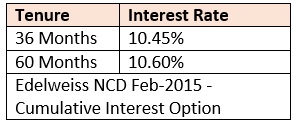 Profit Report – last 03 years: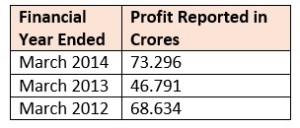 As inflation is trending down currently so high probability is that interest rates will also trend down in future.Interest rate of 10.60% for AA rated NCD can be a good investing option considering period of next 05 years and investor can allocate some part of fixed income portfolio in this issue.