DHFL – Dewan Housing finance Limited – second largest private sector housing finance company has come with Secured, NCD issue with face value of Rs.1000 each & issue size aggregating up to Rs.1000 crore, with option to retain over subscription up to 4000 crore limit.
Company may issue NCDs in one or more tranches.
DHFL was established in 1984 with an objective to provide housing loan assistance to low – medium income group.
DHFL has also presence in Life insurance & Asset management with joint venture partner Pramerica (Prudential of America)
Details of DHFL NCD issue are as follows:
Imp Dates:
Issue open date: Aug 03, 2016.
Issue close date:Aug 16, 2016
Different category of investors like – Institutional investors,Corporates,HNIs,Retail individual investors are eligible to apply.
High Networth Individuals:

Applying for more than Rs.10 Lakh aggregating across all series.
Here we will consider coupon rates for Individual / HNI investors :
Interest rates FOR INDIVIDUAL INVESTORS (Retail / HNI):
Coupon rates depends on tenure of NCDs and interest payment frequency.
Monthly Interest payment:
Interest will be paid monthly.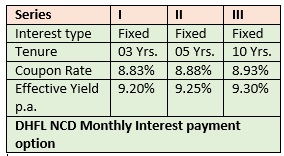 Annual interest payment: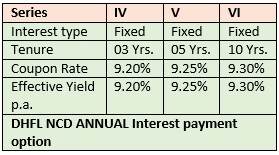 Cumulative option:
Principal and cumulative interest to be paid at the end of tenure.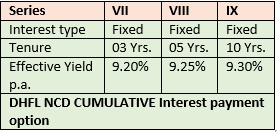 Floating rate option:
For tenure of 03 yrs, floating rate option based on CPI – consumer price inflation is available for investor.Retail / HNI Investor will get spread of 4.18% above CPI and interest will be paid annually.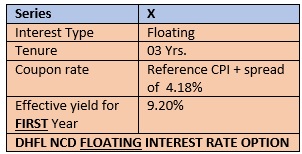 Reference CPI will be avg of last 12 months.So interest will reset annually.
Interest payment for Non Cumulative option will be on actual basis and one can use following formula to calculate expected interest:
Interest on NCD for Non-Cumulative mode
= (NCDs allotted) X (Face Value) X (Interest Rate/100) X (No of Days)/366
Other issue details:
Credit Rating :CARE AAA & BWR AAA indicates stable issue & highest safety.
Listing : Both @ BSE & NSE.
No call or put option : Neither company not investor will able to redeem NCDs before tenure.But investors holding NCDs in demat mode can sell in secondary market.
Allotment is on first come first served basis.30% of issue size is reserved for retail individual investor – not applying for more than 10 Lakh & 30% for HNIs i.e. applying for more than Rs. 10 Lakh.
Min application amount: Rs.10,000/-
Security :Issue will be secured for both principal and interest thereon.Minimum security cover of 1.1 times of principal & interest  will be maintained.
Profit after tax / financials of DHFL :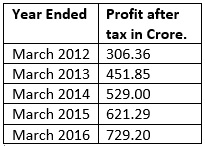 Should you invest in DHFL NCD:
Company has shown robust growth in profits since last few yrs.As well considering highest credit rating and secured nature of issue investor can invest some part of fixed income portfolio in this issue.We are in falling rate scenario and interest rate of around 9.20% can be considered as good interest in this environment.