IFCI Ltd has come up with -Public  Issue of Secured Non-Convertible Debentures – of face value of Rs.1000 each , up to Rs. 250 Crore with an option to retain over subscription up to shelf limit Rs. 2000 crore.
Govt Of India is major share holder in IFCI with Govt stake around 55%.
Imp Dates:
Issue Open Date: Oct 20, 2014.
Issue Close Date:Nov 21, 2014.
Interest Rates:
This issue offers different investment options Viz. Monthly interest option, Annual interest and cumulative.
Coupon rates indicated below are for HNIs (applying for more than 2 Lakh )and Retail individual Investors / HUFs (Applying for less than Rs. 2 Lakh)
Monthly Interest Option: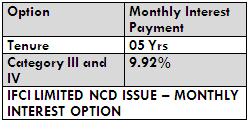 One can check that for for monthly interest option available for 05 yrs tenure only at rate 9.92% per annum.
Please Note: Demat Account is compulsory for monthly interest option.
Annual Interest Option:

Cumulative Option:

Share Holding Pattern :
Current share holding pattern of IFCI is as follows: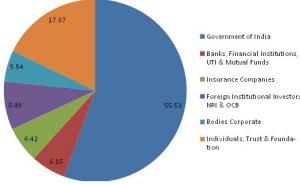 One can check Govt Of India being major share holder with 55.53% stake.As well LIC holds 3.73% and govt Pension funds holds 1.53% shares at IFCI.
Credit Rating:
ICRA "A"  and BrickWork AA-: both indicates medium safety of issue.
What are concerns of IFCI:
Higher Non Performing Assets & provisioning- Gross NPA is around 15% while Net NPA is around 10%.But at the same time company have shown good rise in net interest income in recent quarter.
IFCI being promoted by GOI ,10% interest rate for next 5-10 yrs can be a good bet considering reducing  interest rate scenario ahead.