One of the reader of this blog have cash of around Rs.25 Lakh in his bank account .He will need this money after couple of months and till he wish to invest some where to get some optimum returns -more than 4% offered by general saving account.
Since he need money after couple of months we will consider period of 50 days only as we need to keep some allowance period.
No Equity or long term Debt funds:
First suggestion will of course don't think for any equity or long term debt – income funds.As period of 50 days is too small and one should not think for volatile asset for such a short period.
Bank Short Term Deposits:
My first preference will be for short term deposit of tenure 50 days with my bank where my saving account is.Short term deposits are currently attracting deposit rate of 6-8% per annum basis and I should not expect much more beyond this.
Fixed Deposit rates – 50Days:
Deposit rates of few leading PSU and private banks are as follow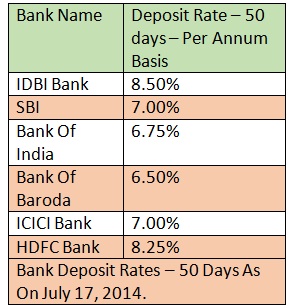 Liquid Funds:
Liquid funds can be another option.As per current scenario… liquid funds can offer returns of 8.50-9.5% per annum basis.But one need to complete KYC formalities(if not current investor) and may need to gather some information or may need to take  guidance from some one.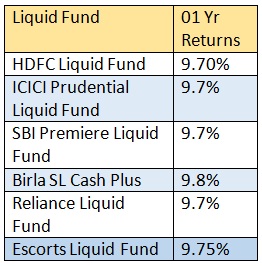 Saving Account with higher interest rate:
Few banks are offering interest rates up to 7% on saving account.List includes banks like Kotak Mahindra or YES Bank…but it may not be feasible to open the account if there are not major cash flows in this account.
so from my point of view..few above mentioned options are available for short term investment purpose..suggestions are wel-come if any..