Muthoot Finance Limited – has come up with a public issue of – Secured & Unsecured ,Redeemable Non-convertible Debentures (NCDs) of face value of Rs.1000 each..aggregating to a total of up to Rs.400 crore.This issue will open for subscription on Nov 19, 2014 and will open for subscription till Dec 18, 2014.
Muthhot finance is the largest Gold Loan company with Gold loan book of more than 21,600 Crore as in March 2014.
Company have shown CAGR growth of more than 24% in loan under management since 2010.
Credit Rating : AA- By ICRA  which indicates higher safety of issue.
This issue offers different investment options like : Cumulative,Monthly interest and annual interest payout.
Monthly Interest Option: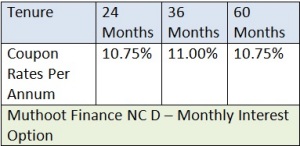 Annual Interest Payment Option:
Cumulative Option: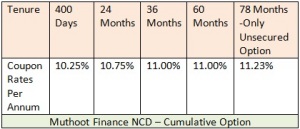 With Last option ,investors money will get exactly doubled but it is unsecured option and it will be categorized as tier-II debt of company.
Pl note: Investor need to apply in demat mode only for Cumulative Option.
Muthoot Profit Net Profit in Crores- After Tax and Depreciation:
Company's net profit have grown with more than 26% CAGR since 2010.
Company have reported Net profit of Rs.180 Crore and 170 crore for last two quarters of this financial year.
Muthoot Finance – is well established company with smart cumulative Growth last 05 years though gold prices have subdued…Still investors should have awareness about external factors like Gold prices,Regulations,growing competition from banks etc can affect company's performance.
Issue offers better interest rates..especially considering lower interest rate scenario ahead and one can think to invest small part of fixed income portfolio in this issue.