Muthoot Finance of the largest Gold loan company has come up with an issue of Secured and Un-secured NCDs in April 2017.Details of Muthoot Finance April 2017 NCD issue are as follows.
Imp dates:
Issue open date:April 11, 2017.
Issue close date:May 10, 2017.
Credit Ratings: CRISIL AA / ICRA AA.Both indicates stable issue.
Coupon Rates:
NCD issue offers coupon rates ranging from 8 t0 9% depending on tenure & interest payment frequency.
Monthly Interest payment:
Interest payable monthly from date of allotment.

Annual Interest Payment:
Interest payment annually from date of allotment.

Cumulative Option:
Compounded annual Interest and principle will paid at maturity.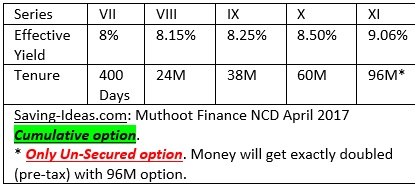 Other details:
Minimum investment amount Rs.10,000 onwards.
NRIs are not eligible to apply.
Allotment first cum first served basis, per day basis.
Demat mode compulsory:

Demat account is compulsory if you wish to invest in this issue.

Security: Company will provide 100% security cover for secured NCDs and interest thereon.While unsecured NCDs will be subordinated debt & no security cover will be provided.
Company intends to raise Rs.1950 crore against secured NCDs and Rs.50 Crore against unsecured NCD issue.