As name Bal Vikas Yojana indicates,its a child plan offered by Mahindra Mutual Fund.This is balanced fund and parents/close relatives can invest in name of child for its future needs like education,higher education or marriage.
More details of Mahindra Mutual Fund Bal Vikas Yojana are as follows: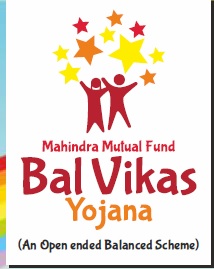 Eligibility:
Units in this scheme shall be held in name of beneficiary child.Child should be less than 18 years of age as on date of application.Guardian can be natural guardian(either parents) or legal guardian.Subsequent purchases may be made till unit holder attains age of 18..till unit holder will be represented by parent or legal guardian.
Lock in period (Optional):
Its optional to opt for lock in period.If lock in period is opted then units will be locked until beneficiary child attains age of 18 years or completion of 03 years from date of allotment,whichever is latter.
If guardian strictly wish to utilize corpus for child's higher education purpose,then only opt for lock in period.
Asset Allocation:
Mahindra Bal Vikas Yojana is an open ended balanced scheme and will allocate its asset across:
Equity(40-60%),
Debt(25-55%)
Arbitrage opportunities(5-15%).
Equity:
If child is younger,means you have sufficient investment horizon.Equity allocation in such cases will allow investment to grow over a longer period of time.
Debt and Equity arbitrage:
Exposure towards debt and Arbitrage will offer stability to portfolio.
Tax Benefits:
No 80C Benefit:
This fund is NOT eligible for 80C benefit…even though investor opts for lock in period.Only ELSS schemes & Retirement funds are eligible for 80C benefit.
Maturity Taxation:If fund keeps equity allocation (direct Equity + Arbitrage) above 65% then it will eligible for equity taxation and no long term capital gain tax will applicable.Most of the balanced funds keeps equity allocation above 65% to make it eligible for equity taxation.Investor can take information from AMC when it intends to redeem units from this scheme.
Exit Load:
As this fund is linked to longer term goals like child education,marriage,it has exit load provision to discourage investor from premature exit.
Exit load structure:
3% for exit within 365 days.
2% for redemption between 366 -730 days.
1% for redemption between 731 – 1095 days.
Documents needed:
If you decides to invest then you will need following documents:
Duly filled application form.
KYC of Guardian.
KYC of donor (if donor is not guardian).
Details of Child bank account  [For redemption credit]  or declaration about the same.
Relation document between child and guardian.
Age proof of beneficiary child.
This fund offer will open for initial purchase between April 20 – May 04, 2017.From May 19th scheme will be available for continuous sale and purchase.