IDFC have recently announced buy back offer of long term infrastructure bonds allotted in Feb 2011 u/s 80CCD. Buy back facility is available for investors who have opted for same while investing.Long term infra bonds are subject to mandatory lock in period of 05 years and after lock in period investor have option of either buy back or continue.
Buy back date of IDFC infra bonds Tr 2 is on Feb 22, 2016.
If you want to avail buy back:
If investor have opted for buy back option, then remember to send original bond certificate to issue registrar – Karvy Computershare – before January 07, 2016.
If bonds are held in demat form then bonds will be automatically redeemed and money will be credited in investors account.
If you do not need money & you wish to continue with bonds:
If you do not need money now then you can continue with bonds.But you need to send consent form to IDFC.Investor can send consent letter to registrar by post or can send scanned copy of filled form to email Id:idfcinfrabb2@idfc.com.consent form need to send until August 21, 2015 ..otherwise money will be compulsorily refunded.Investor should remember that if they decide to continue with their investment then next liquidity window will available only on maturity i.e on Feb 21, 2021.
IDFC infra bonds were alloted in Feb 2011 and interest rate offered was 8% either compounded annually or interest paid annually as opted by investors.
Also View: PFC Infrastructure Bonds Tranche 1 Buy Back Offer
//Request for readers:
This is not official blog post of IDFC. If  you have any technical query about redemption of bonds then please contact them directly as address provided in bond certificate..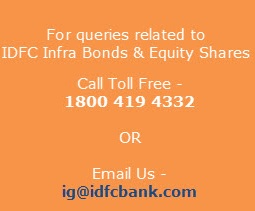 Image Source: IDFC website.
Just reproducing comment by one of the reader Guarav which may help readers 
Check HERE the comment by Guarav.
As per comment posted by Ashok Krishna (Click Here to read Comment on idfc bonds buyback) bonds can be surrendered till March 06, 2016 and payment will be made in third week of March.