Today's post is the repeat telecast of posts already written on this blog about debt funds & fixed deposits.Though we have already write on this topic earlier,we will have some focus on difference in fixed deposits & comparable debt mutual funds.
Return Comparison Of Debt Funds & Fixed Deposits:
Interest Rate of fixed deposits is known earlier & its fixed for the said tenure if kept for complete period.While returns on debt funds can only predicted based on the past performance & current situation.
If we consider period of last 03 years ,best income fund (Long term) have offered return of 10.5% annually while worst fund have offered 0.1% returns.Considering 5 year period,best fund have provided returns of 11.7% annually while worst fund have provided returns of -9.4%..which gives the clear idea of risk in debt funds.
Growth in  fixed deposits will always a linear straight line which is not the case for income funds.
Risk Comparison of Fixed Deposits & Debt Funds:
Debt Funds will carry two types of risks:
Caught in wrong scheme:

Not every debt mutual fund will offer the best kind of returns & there are very little parameters like past performance which can be used for selection of debt fund.So choice of wrong scheme  is major risk in case of debt funds.

Defaults

:Any single default can affect the debt funds very badly.
While fixed deposits can carry liquidation risk where bank can go under liquidation & there is protection of Rs. 1 lakh through deposit insurance.
Deposits from Govt owned banks can be considered as free from credit risk.
Functioning Difference between Fixed Deposits & Debt Funds:
In case of fixed deposits,bank will collect money from fixed depositors & lend money with some higher rates.Interest margin which is around 3-3.5% is major source of income for banks.
While debt funds invest in different types of instruments like bonds offered by Govt companies,private companies,long/short term securities based on the objective of the mutual fund scheme.
Functioning risk in fixed deposits is less than debt funds.
Taxation difference between Fixed Deposits & Debt Funds:
Interest income on fixed deposits is considered as income of depositor & get added in the overall income of the depositor.Also there is provision of TDS if interest income from the branch exceeds  Rs.10,000/-.
While in case of debt funds,capital gain taxes are applicable.Investor of debt fund need to pay tax as 10% flat without indexation Or 20% with indexation which one is lower.
Partial withdrawal – Fixed Deposits & Debt Funds:
One can not make partial withdrawal from fixed deposits but need to break entire deposit.But one can take precaution while depositing money & can make deposits of smaller amounts.While in case of debt fund one can take out partial withdrawal of any amount from min amount prescribed by mutual fund.
Regular Income Comparison Fixed Deposits / Debt Funds:
Regular income is possible from both fixed deposits & debt funds.One can take monthly / quarterly interest payouts from fixed deposits while in debt funds one can get income via dividends or Systematic Withdrawal plans.
In case of deposits, principal amount will be remain similar till the end of period while in debt funds original investment amount can be higher or smaller depending up on the performance of scheme & rate of withdrawals made by the investor.
Premature withdrawal Comparison between Fixed Deposits & Debt Funds:
Premature withdrawal is possible in both fixed deposits & debt funds.Banks will paid you interest rate for the period with which deposit was with the bank .Few banks charge penalty of 1% on this rate.While in case of debt funds most of the funds charge exit load for the certain period which is 1% for the year of 1 year for most of the long term maturing funds.
Ease of investing:
Ease of investing will be more in fixed deposits.In case of mutual funds documentation like KYC are necessary.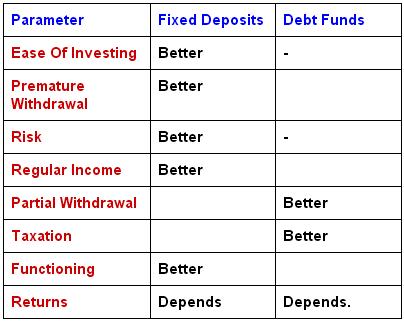 Bottomline:
There are some parameters which are in favor of deposits while few parameters are in favor of debt funds..So its not possible to generalize which one is better.E.g risk wise fixed deposits are superior & taxation point of view debt funds are superior..One need to clear preferences before choose the instruments.Still retail investor can have a ratio of 75:25% between deposits & debt funds.