Today Reserve Bank Of India reduced repo rates by 0.25% to 7.50% from 7.75%.
What is CRR,Repo Rate & Reverse Repo Rate:
CRR – Cash Reserve Ratio: As name indicates Banks need to keep certain ratio of deposits with Reserve Bank Of India which is called as Cash Reserve Ratio.Current CRR is 4% which means that if there is deposit of Rs.100,bank will able to utilize Rs.96/- for lending purpose.This is the most effective tool for RBI to increase / decrease liquidity which in turn affects the inflation.
Repo Rate:The rate at which RBI lends money to banks or other financial institutions.
Reverse Repo Rate: Its opposite to Repo rate where RBI borrow money from banks & reverse repo rates are typically 1% lower than that of Repo rates.
CRR,Repo rates directly affects the loan rates & deposit rates offered by banks & RBI need to make a balance of Growth & inflation while considering about the same.
Current interest rates: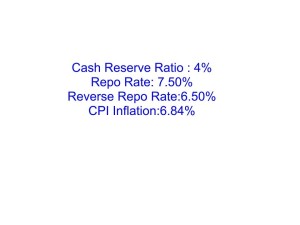 Bank Rate (Repo Rate) & Inflation comparison with other Asian countries:
We will take a view Bank rates & current CPI inflation rates with other few Asian Countries:
| | | |
| --- | --- | --- |
| Name Of Country | Bank Rate | CPI Inflation Rate |
| India –  | 7.50% |  6.84% |
| China | 6% |  3.20% |
| Japan  | 0.1% |  -0.30% |
| Pakistan | 9.50% |   7.40% |
| SriLanka |  7.50% |  9.80% |
| Nepal |  9.95% |  3% |
| Singapore |  0.04% |  3.60% |
| Saudi Arabia |  2% |  3.90% |
| Bangladesh | 7.25% |  7.87% |