Noted Non-banking finance company – Mahindra Finance which is promoted by Mahindra & Mahindra will soon come up with an issue of subordinated , unsecured NCDs.
Issue Size: Mahindra Finance will raise Rs.250 crore through this issue with an option to retain over subscription up to Rs.1000 crore.Company may issue one or more tranche of issues.
Company will utilize the issue proceedings for lending,financing,refinancing existing indebtedness,long term working capital & general corporate purpose.
About MMFSL :
Mahindra finance provides finance mostly in rural areas for Agricultural / allied activities & auto sector.
MMFSL is listed company at BSE and NSE promoted by Mahindra & Mahindra.
Profit After Tax history & other financials of MMFSL is as below: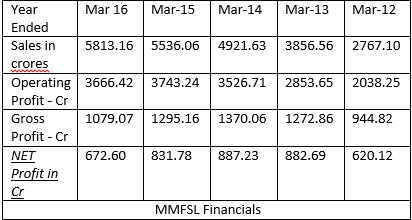 Above table shows snapshot of Sales,Operating profit,Gross profit and net profit of company for last 05 years.
Performance of company mostly depends on rural economy and in turn factors like monsoon,performance of agricultural sector etc.  Agricultural  /allied , Auto  comprises of more than 90% of companies loan portfolio.
MMFSL NCD Issue Imp dates:
Issue open date:May 25, 2016
Issue close date:June 10, 2016.
Interest rates for individual investors :Investors have different investment options like – Quarterly , annual interest & Cumulative.
Quarterly Interest payout:
Interest will be paid quarterly accumulated from date of allotment.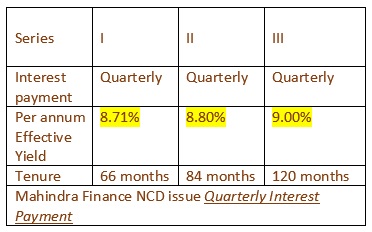 Annual Interest Payout:
Interest will be paid out annually.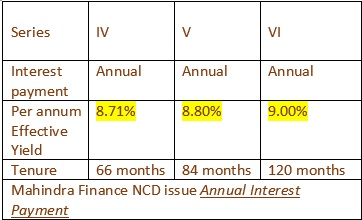 Cumulative:
Interest and principal amount will be paid at maturity.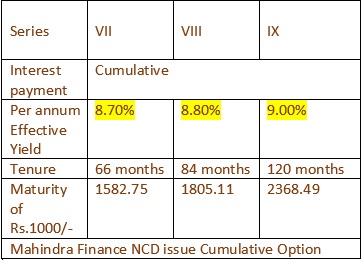 Other details:
Credit Rating

:CARE AAA & IND AAA which indicates highest safety.

Mode of holding

:NCDs can be held in physical or demat mode.

Face value

: Rs.1000.

Min application amount :

Rs.10,000/-

High Networth Individual

: Investor applying for more than Rs.5 lakh will be treated as HNI investor.
Listing : @ BSE only.

No call or put option :

 Investor will able to sell NCDs only in secondary market.

TDS

: Provision of Tax Deduction at Source will be applicable for physical mode of holding if interest paid / accrued is crossed the threshold limit of Rs.5000.One can submit appropriate form like 15G / 15H to avoid TDS. No tax will be deducted at source if NCDs are held in demat form.
Though NCDs are subordinated,unsecured,Tier-II, one can invest small part of fixed income portfolio in this issue.
Mahindra Finance also accepts public deposits .Click Here for details and interest rates offered by Mahindra & Mahindra Financial services.