ICICI Prudential Life Insurance company have recently launched ICICI Pru Life iProtect Smart -offers additional benefits along with basic life cover.

Key features of ICICI Pru Life iProtect smart:
Protection for family:

through  pure life cover.

Protection against disability

: In case of permanent disability due to an accident, the policy continues without paying any further premiums.

Benefits under ***Terminal illness:

If  diagnosed with terminal illness, policy holder will receive complete sum assured.

Protection against ***Critical illnesses

 (if opted ): Additional cover against 34 conditions of Critical  illnesses if opted.

Accidental death benefit (

If opted):In case of death due to an accident ,nominee will receive double the sum assured.
Lumpsum or structured benefit payouts if death claim arises.
Different premium payment options like – one time, Limited time premium payment or throughout life premium payment.
One can increase life cover at different stages of life like marriage or birth of children.
Different plans and options: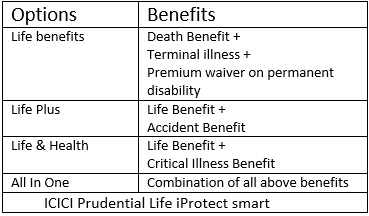 //please read "Accident Benefit" as "Accident Death Benefit" in Life Plus option.
***Terminal illness Vs. critical illness:
Terminal illness means likely death within 06 months of diagnosis.This opinion need to be confirmed by two specialist doctors having same area of specialization.
While critical illness is life threatening condition but death within certain period can not be predicted.E.g Patient with last stage kidney failure needs regular dialysis.It can be classified as critical illness not terminal illness as patient can live on dialysis.
Different scenarios if policy holder opted for All benefits:
Policy holder dies within policy period:

Death benefit (sum assured) payable to nominee and policy is closed.

Policy holder diagnosed with Terminal illness:

Benefit equivalent to death cover payable to policy holder and policy is closed.

Permanent disability due to accident :

Policy benefits continues without having to pay any future premiums.

If policy holder dies in Accident:

Nominee will receive DOUBLE the sum assured subject to max benefit of Rs.2 Crore.

Policy holder diagnosed with listed Critical illness:

Critical illness benefit will be paid out and policy continues with reduced life cover.If critical illness benefit is equal to death benefit then policy will be closed.

If no claim arises

: Then no survival or maturity benefits available.
Premium payable : For Basic life benefit,for 30 yr old, 30yr policy period , 1Cr death benefit, approximate annual premium payable will be around Rs.9000.If you are looking for additional benefits – accident death & critical illness cover then you can visit company website for quote or contact their representative.
Tax benefits : Tax benefits u/s 80C and 80d as applicable
Should you buy ICICI Pru iProtect smart – Do not buy only for tax benefits – affordability is a key:
I would like to cover all risks which can have deep  impact on my or families financial life .But affordability is major factor.
If – one need to pay different EMIs,
– need to pay & plan for children's education,
– need to plan for retirement,
– need to spend on holidays…
one  need to check first whether can I afford this additional cost or not & need to optimize them.
Pure term cover & pure mediclaim is essential but one can think about extra facilities if you can afford the premium….