Edelweiss Tokio Life recently launched Critical Illness insurance product : Edelweiss Tokio Life Criticare+.As name indicates it will provide a insurance cover against 17 mentioned critical illnesses.If policy holder is diagnosed with any mentioned critical illness then lumpsum benefits are payable immediately on diagnosis and if policy holder is survived for 28 days after diagnosis.Please remember that this is not Mediclaim product and so benefit will payable on diagnosis unlike to mediclaim products where hospitalization is needed for claim.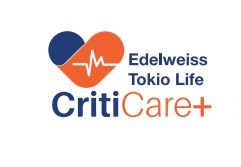 Details of Edelweiss Tokio Criticare+ are as follows:
Cover will be against 17 major critical illnesses :
Open Chest CABG -Coronery Artery Bypass Graft
First Heart attack of Specified Severity.
Open heart replacement or Repair of Heart valves.
Kidney failure which need Regular dialysis.
Major Organ transplants – like Kidney,Heart
Stroke resulting in permanent symptoms
Arota surgery
Permanent paralysis of limbs
Coma of specific severity
Severe burns
Total blindness
Aplastic anaemia
Cancer of specific severity
Benign brain tumor
Major organ transplant – Bone marrow,Liver,lung,pancreas
Motor neuron disease with permanent symptoms
Multiple sclerosis.
Please take medical help to understand the meaning of illnesses mentioned above or Refer to broucher Here
Multiclaim Option: This policy have added multiclaim option.Company have categorized illnesses in 03 different groups and one illness  under different groups can be claimed .But this facility will come with added premium rate.
Premium of Edelweiss Tokio Criticare+:
Premium rates depends on sum insured, Age and policy term.Premium rates will be higher for more term, age and sum insured.E.g for Sum insured of Rs. 5Lakh individual with age 35 yrs and policy term of 30 yrs premium will be Rs 2575 + Service Tax and surcharges & for individual of 40 yrs , premium will be Rs.3600 + S.T and Surcharge.
Limitations of this plan:
This is critical insurance plan so claim will be payable only if severity of illness is life threatening.E.g there are certain cases of cancers which are not life threatening .
Premium rates are fixed for 05 yrs and can be revised thereafter as per experience of company so policy holder need to pay premiums at revised rates to continue the plan.
Claim payable only if policy holder survives for at least 28 days after diagnosis.
Max term is available for 30 yrs so for individual of 35 yrs cover will be available up to age of 65 yrs which may not be sufficient.
As this is pure critical illness plan , there won't be any survival , maturity or surrender benefits.
Tax benefits:Tax benefits U/S 80d are available for premium paid towards this policy.
Its true that Critical illness may lead to severe loss of income and put pressure on family due to heavy expenses towards such illnesses.But after considering limitations of this plan one can purchase only if he/ she affords to buy after having sufficient exposure towards own retirement corpus and other necessary expenses.
Disclaimer : Author not related to any insurance company