SREI – Engaged in long term finance of infrastructure projects has come up with an issue of Secured NCDs in Dec 2013 which is due to open on Dec 30, 2013. SREI will raise Rs.100 Crore through this NCD issue.
Imp Dates:
Issue Open Date: 30-12-2013.
Issue Close Date:31-01-2014.
Interest rates ,Options and Tenures:
Interest rates indicated below are for Individual investors and HNIs.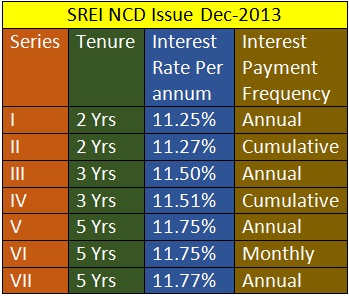 One can view that SREI NCD issue offers different investment options ranging from 11.25% to 11.77% with different interest payment options like monthly,annual interest or cumulative mode.
Interest rate indicated in Option VII is average rate.Investors of this series shall get annual payout as 12.50%, 12.00%,11.50%,11.25% and 11.25% respectively for 5 years.
Interest payment will be net of TDS if applicable.
Credit Rating : CARE AA- and BWR AA -indicates stable outlook.
Mode of Holding : Series VI can be held in demat form only and rest can be held in either physical or demat mode.
Investor can apply for minimum Rs.10,000 or 10 NCDs.
Investor can invest a small part in this issue after understanding the credit risks associated with any infrastructure finance company.
Also View:
Muthoot Finance NCD Issue Dec-2013
IRFC Tax Free Bonds January 2014.