CTS-2010 –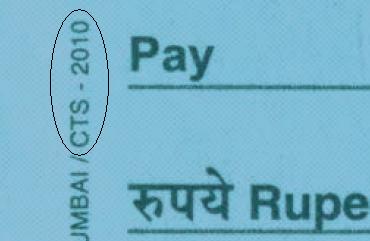 [This is Zoomed image . CTS-2010 mark up will be of much smaller font.]
Readers may aware that from Jan 2013 its mandatory to use the cheques of the CTS-2010 standards for speedy and secure transactions.CTS – Cheque Truncation System is image based truncation system where scanned images having standardized security features will be used for speedy cheque transactions which will overcome the geographical barriers.
Its mentioned on the side line of the cheque as cts-2010 to identify whether its cts-2010 standards or not.[View Image Above] If your cheque is not of CTS-2010 standards then you need to apply for new cheque book of this standard and surrender the older cheques.
How CTS-2010 Cheque Is different –
CTS-2010 mark up on the vertical side line as shown in above image.
Banks Logo with invisible ink.
Void Pantograph.
Space for signature [Sign above this Line mark].
Rupee Logo.
ICICI-Bank 1% Cash Back Offer Home Loan –
One may have heard about the ICICI Bank 1% cash back home loan offer.The customer should have ICICI bank account & must use Auto Debit facility to use this offer.Cash back will be offered from first EMI only but will be accrued till completion of 36 months  and then actually paid back to the customer.Customer will have option to take cash back in saving account as well adjust it against the principal amount which will help to reduce the tenure of the home loan.Home loan rates are 10.25% & 10.50% for home loan upto 30 lakh and above respectively.
I think this is the attempt made by bank to avert customer from making advanced repayments and retain the customer for longer period of time.
Details of ICICI 1% Cash Back Home loan Offer ,Illustrations, Frequently asked questions  can be Viewed Here
Calculate Home Loan EMI & Amortization Schedule: