As Sensex is approaching  level of 20,000,I think its obvious that redemption pressure will grow for Equity mutual funds.
Possibly,there are number of investors who are either looking to book profit  or happily withdraw their principal amount recovered after waiting for number of years.
Of course,its not correct approach to withdraw completely from equity markets or stop SIPs at this point but things are looking inevitable for number of investors.
So as far,there are two options for investors –
Redeem mutual funds.
Switch Equity funds to Liquid / debt options.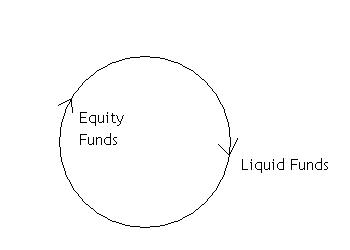 As far my opinion is concerned, if you are happy with performance of said mutual funds then one should prefer to switch out equity funds to liquid funds.It will create cyclic process which will be convenient for you to operate easily.Mutual funds redeemed to saving account may found its own way somewhere and one may detached from mutual funds in future.As well,liquid funds will offer you better rate of return over saving account.
You can create STP from liquid funds to equity funds as well switch lumpsum amount back to Equity funds.
So is it better idea or not? What do you think about it?
Also View –
How Systematic Transfer Plan [STP] works –