A number of IFCI-series-4 investors have this quey as they have not received the physical document as well bonds have not credited  in their demat account.
Today while checking for same about my own investment,I found some changes occured in dispatch status.(I don't know when this is updated.I was last checked it few days back.)
Few days back when I was saved screen print was like this:
You can observed the bottom line:"Certificate will be dispatched in due course".and there was not any dispatch date column.
Today when I check the status again,it was like this: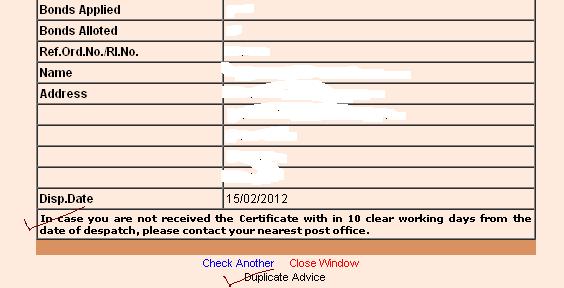 Now you can see update:"In case you are not received the certificate with in 10 clear working days from the days from dispatch,please contact nearest post office"…Though dispatch date is showing as 15/02/2012,they may have dispatched very recently (We don't know the exact dispatch date).
So I think who have not received the bonds should wait for more 8-10 days..You can have screen print like this for your reference as well you can download the duplicate advice from the link I have ticked  at the  bottom.