HDFC Mutual fund New Fund Offer – NFO for Fixed maturity plan for 384 days.FMPs invest in debt / money market instruments & Govt securities maturing on or before maturity of the plan.Performance is benchmarked against CRISIL short term Bond fund.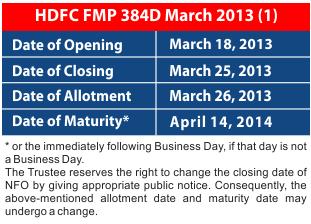 Fixed Maturity Plans are always of Closed Ended nature & can not be sold back to the fund but units  automatically get automatically get credited on maturity date.They are listed on the exchanges & can be sold in secondary market.
NFO Details:
Opening date: March 18, 2013.
Closing date: March 25, 2013.
Date Of allotment: March 26, 2013.
Date of maturity: April 14, 2014.
Regulators have banned prediction of Returns of Fixed maturity plans but we can take view at past performance of one of the year old fixed maturity plan – HDFC FMP 370D Feb 2012:
        Sample Performance – HDFC FMP 370D Feb 2012
Period
Fund Returns (p.a.)*
Category Avg Returns
1 Year
9.9%
5.90%
6 Months
4.5%
2.50%
3 Months
2.0%
1.00%
1 Months
0.7%
0.30%
* Note: Performance of this fund can not be guaranteed for New fund offer also.Changing interest rates scenario can affect the returns of FMPs / debt funds.
Fixed maturities plans are considered to be superior in terms of taxation point of view as it offers investors benefit of indexation / double indexation & can be considered for investment purpose if you are in high tax bracket.