HDFC mutual fund is in process to launch Retirement savings fund.As name indicates,this fund will offer investors to accumulate corpus meant to be used after retirement.This fund is similar to any other mutual fund scheme with some modifications which will encourage to invest for long term.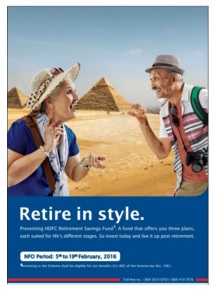 Details of HDFC Retirement Savings fund are as follows:
Important dates:
NFO open date:Feb 05, 2016.
NFO close date:Feb 19, 2016.
Following fund options are available for investors:
HDFC Retirement Savings Fund – Equity Oriented:

Investment predominantly in equity instruments.

HDFC Retirement savings Fund -Hybrid Equity:

 Investment predominantly in equity instruments & rest in debt instruments.

HDFC Retirement Savings Fund -Hybrid Debt Fund :

Investment predominantly in debt & money market securities & rest in equity instruments.
Key Features:
This plan will be managed by experienced fund managers who have managed funds like HDFC mid cap opportunities.
Provisions to discourage investors from early redemption.

80C Tax benefit:

This is open ended notified tax savings scheme.Tax benefit u/s 80C is available for investment under any of above plan.

Lock in period:

There is mandatory lock in period of 05 yrs.Switch / redemption possible only after completion of 05 yrs.
Investment possible through lump-sum,SIP,STP way.

Exit load:

Exit load of 1% if units are redeemed before attaining age of 60 yrs.
For now there will be only Growth option and dividend option will be introduced in future.
No long term capital gain tax payable (as par current taxation laws) for equity oriented fund.
This fund will reopen for continuous purchase from

FEB 29, 2016.
Who can invest:Any adult investor without any upper age limit can invest in this fund.Investors whose age is above 60 yrs can also invest but units will be locked in for minimum 05 yrs.Minors through natural / legal guardians are not eligible to invest.
Its not mandatory to purchase annuity through redemption value: Unlike to retirement funds of insurance plans or NPS, its not mandatory to buy annuity through redemption value.Investor can opt for its own choices for regular income.
How HDFC Retirement Savings fund will work :
Scheme will assist investors to raise corpus up to extent of redemption value.After attaining age of 60 yrs investors can have different options:
Redeem units completely & opt for other instrument

: Redeem units completely and invest in other options like senior citizen savings scheme , non-cumulative fixed deposits which can offer investor periodic income.

Switch to other scheme of HDFC Mutual fund :

Switch to other appropriate scheme of HDFC mutual fund like Monthly Income Plan or dividend options of any other scheme and get dividend income.

Option of SWP – Systematic Withdrawal plan:

Investor can opt for SWP and get regular fixed, periodic redemption amount.
Should you invest in HDFC Retirement savings fund:
Investor have choice to invest in ELSS schemes to avail 80C benefit.So better to invest in any good performing ELSS scheme if aim is to save tax.
With correct approach, retirement corpus can also be raised through other on going mutual fund schemes.
Other fund houses like Reliance already have such fund and others like ICICI pru,SBI,DHFL-Pramerica are in process to launch similar funds.Invest only if you have long term investment approach.