If you are a mutual fund investor in India or looking to invest in mutual funds then you may aware of KYC norms required to invest in mutual funds.
Investor can check their KYC status at CDSL website:Check Here.
If Investor enter his / her pan number Or other mentioned data then either KYC status will be reflected: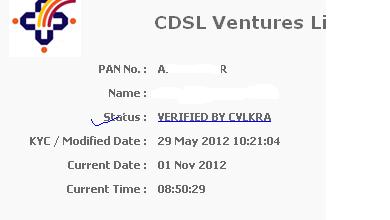 2.MF-Verified By CVLMF: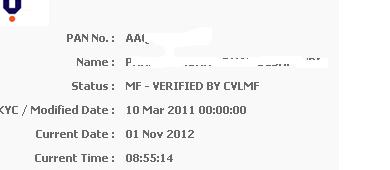 Is your KYC date is prior to Jan 01, 2012:
If your KYC date is prior to January 01, 2012 through CVL and whose KYC status reflects as MF-Verified by CVLMF then such customers need to provide missing KYC information.
Such investor need to provide this information if they invest at any mutual fund house for First time after Nov 30, 2012..Suppose if you are looking to invest at DSP Blackrock mutual funds for first time after Nov 30 2012 and your KYC status is MF- Verified by CVLMF then you may need to provide the updated KYC information.
What is Updated KYC Information:
It may include following Info-
Name:
Address:
Name of Spouse / father.
Marital Status.
Nationality.
Gross Annual Income.
In Person verification – by authorised agencies or personnels.
One can download application form for KYC updates from Here.
Rest if your KYC status is reflecting as KYC Verified by CVLKRA then you need not to apply for any KYC updates.