Just Dial Limited – One of the leading local search engine in India has come with IPO issue and details of IPO are as below:
Issue Open Date: May 20, 2013.
Issue Close date: May 22, 2013.
Price band : Rs.470-Rs.543 per equity share (10% discount on the floor price to retail individual investors).
Minimum bid for retail investors: 25.
Max bid amount : Rs.2 lakh.
Listing : BSE,NSE,MCX-SX.
IPO Grading: CRISIL have offered grading of 5/5 for Just Dial IPO.It indicates that company have strong fundamentals.
Issue Allocation:Dust Dial IPO
QIBs:At least 75% of the offer size.

Non-Institutional Bidders:Not more than 15% of the offer size.
Retail Individual Bidders: Not more than 10% of the offer size.
Just Dial -Total Revenue (Millions):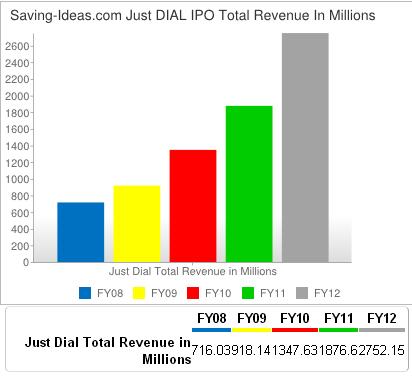 Just Dial IPO-Total Profit in Millions: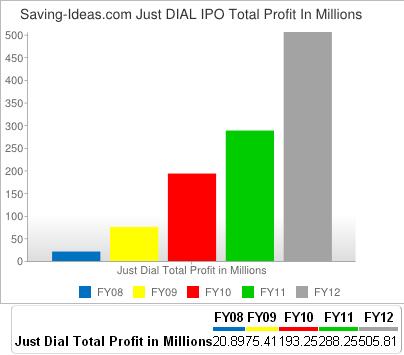 Just Dial profit have grown by more than 89% from FY08 to FY 12.
Currently market is trading in positive zone & market experts don't see any major downside risk.CRSIL have allotted 5/5 IPO rating.Its expected that Just Dial IPO will get the good response…But real question is even if I apply for complete max lot ..I don't think high number of shares shall allotted to any retail investor & it will not lead to significant gain..even if it listed positively in future.