LIC Of India – have recently launched much awaited online insurance plan LIC e-term.
Some important features of LIC's E-term plan are as follows:
Min Entry Age: 18 Yrs
Max Entry Age: 60 Yrs
Min Policy Term: 10 Yrs
Max Policy Term:35 Yrs.
Min Sum insured for non-smokers: Rs.50 Lakh.
Max Sum insured to smokers : Rs.49 Lakh.
Max sum insured : No Limit.
Good thing about this plan is this plan offers higher term of 35 years.There are number of other cheaper plans which offers insurance for max term like 25 years..so this plan is better for average age of 30 years to cover self till approximate retirement age till 60 yrs.
Individuals who are seeking to buy online term insurance may need to undergo certain medical tests depending on different factors like age,higher sum insured or history of individual and they may need to pay higher premium for specific cases.
Term insurance is the cheapest and purest form of insurance as only risk is covered. As term insurance covers pure risk,there won't be any maturity benefit.
LIC have offline term plan – Amulya Jeevan II for sum insured of Rs.50 Lakh.Premium comparison for Online Term plan and Premium Comparison between online and offline plans for 20 yr term plan and 30 yr old is as below: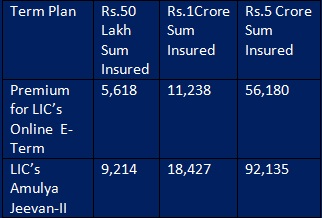 So one can view that online plan bypasses certain costs like agent commission or other administration costs leading to cheaper premium compared to offline term insurance.
But I think this plan will not affect agents with a great way as most of the agents do business in endowment or ULIP plans as well there is still very less awareness among peoples about term insurance.
Also view :
LICs New Offline Term Insurance Plans 
Most of the private insurance companies have already started their online term insurance plans  and individuals who are seeking to plan only from LIC will largely benefited from this online facility.
Visit LIC's home page for more details of LIC E-Term Plan.