One of leading private, housing finance company Indiabulls Housing Finance has come up with an issue of Secured & Unsecured issue of NCDs of worth Rs.3500 crore with an option to retain the over subscription of same amount,aggregating to issue size of Rs.7000 crore.
Indiabulls is non-deposit taking housing finance company registered with NHB.It offers housing loans and loan against property to salaries , self employed individuals,small-medium sized entrepreneurs.Company focuses more on long term,secured,mortgage backed loans.It also offers mortgage loans to real estate developers for residential and commercial purposes.
This is maiden public issue Indiabulls Housing Finance.
Details of Indiabulls Housing Finance NCD issue are as follows:
Imp Dates:
1.Issue Open Date:Sept 15, 2016.
2.Issue Close Date:Sept 23, 2016.(Issue has been closed on Sept 16, 2016 due to over subscription.)
Credit Rating : "AAA" from CARE & Brickwork which indicates very low credit risk.
Security: This NCD issue carries both secured and unsecured debentures.Investors of secured NCDs will receive cover against debentures while no security cover is against unsecured debentures but investors will be compensated with some higher coupon rates.
Following types of investors can apply:
Category I:Institutional investors (20% issue size reserved).
Category II: Non-institutional investors (20% issue size reserved).
Category III : HNIs (Resident individual / Karta of HUF applying for more than 10 Lakh).
Category IV : Resident individual applying for 10 Lakh or less.
Coupon Rates for Category IV Retail individual investors:
Coupon rates depends on tenure, interest payment frequencies and type of investor.Here NCDs have classified as per interest payment frequency – Monthly,Annual and Cumulative.
Monthly Interest Payment: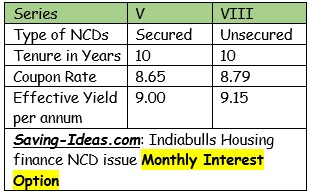 Annual Interest Payment: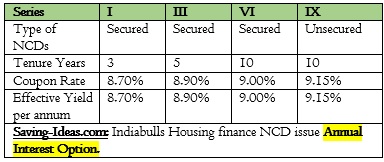 Cumulative payment Option:
Principal & interest on cumulative basis will be paid at maturity.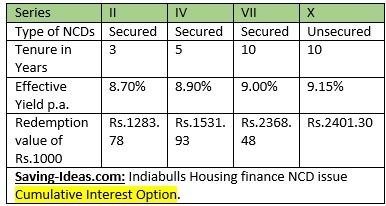 Please note: 0.10% higher coupon rate for Category IV Senior Citizens.
PAT & NPA of  Indiabulls Housing finance:

Other details:
1.Investor can apply in physical or demat mode.
2.Senior citizens applying for Rs.10 Lakh or less will get 0.10% higher coupon rates.
3.Taxation: Interest will be added in investors total income and taxed accordingly.Tax will not be deducted at source if NCDs are held in demat mode but it will be payable.
4.Allotment will be on first cum first served , on daily basis.
Should you invest or not:
Due to lower side interest rates from banks, risk appetite of retail investor for private NCDs is quite high.Especially,NCDs related to retail side lending are in high demand.Though interest rates are little lower as compared to DHFL or SREI Infra NCD, commensurate risk looks lower in this issue.So this NCD issue may also witness good demand .This issue has highest credit rating,low credit risk &  its maiden public issue of this company..so invest some part of fixed income as per credit risk profile.