Considering positive market sentiments and reducing rates from fixed income products fund houses are now focusing on tax saving products. Sundaram Mutual fund has come up with 10 year closed ended Micro cap cum 80C tax saving fund while new fund house Mahindra Mutual fund will launch its maiden ELSS equity fund – Mahindra Kar Bachat Yojana.
We will take view of both new fund offers and returns of ongoing ELSS schemes.
Sundaram Long Term Micro Cap Tax Advantage Fund: Sundaram MF has come up third series of  Micro Cap Tax advantage fund of tenure 10 Yrs (3650 Days).This fund will invest in Small Cap / Microcap stocks and since small cap index is now at high valuation level, it will be

high risk / High gain category fund

against ongoing ELSS funds which generally adopts multicap strategy. This is closed ended fund. so invest in this fund only if investment horizon & risk profile matches with this fund.Investors can participate up to Nov 11, 2016 in this scheme.
Mahindra Kar Bachat Yojana: This will be open ended ELSS scheme to be launched by new fund house Mahindra Mutual fund.This will be its maiden equity fund.This will like other ongoing ELSS schemes.This New Fund Offer is expected to open on August 22, 2016.
Performance of Other Selected ongoing ELSS schemes: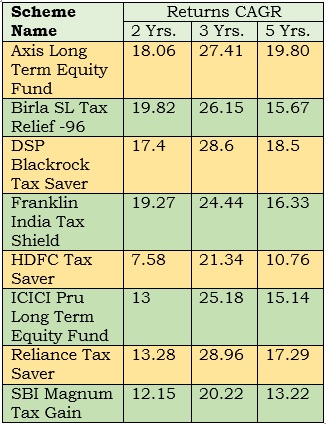 Please note that returns earned by individual investors largely depends on point of entry in the fund.
One can view that funds have performed differently over a period of time.
Considering,decreasing interest rates on tax saver deposits,PPF & other fixed income instruments,investors need to shift towards tax saver mutual funds as preferred tax saving option (at least have some allocation),of course with understanding of how equity fund works.