HUDCO – Housing & Urban Development Corporation Of India ,owned wholly by Govt Of India – is engaged in affordable housing projects and urban development has come up with an issue of secured, tax free bonds which will open on March 02, 2016.
HUDCO intends to raise Rs.1788.50 crores through this issue.
Important dates:
Issue open date

:March 02, 2016.

Issue close date:

March 10, 2016*

Interest payment date:

Dec 15 from Dec 15, 2016 –  every year except last interest payment which will be paid at maturity.
*Chances of earlier over subscription are quite high for this issue also.
Interest Rates: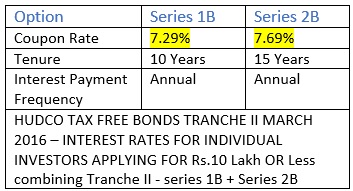 Credit rating

: IND AAA and CARE AAA indicates highest safety of the issue.

Listing

at BSE only.
Annual interest received free from income tax.As interest is tax free there is no question of tax deduction at source.But if bonds are sold in secondary market then appropriate capital gain tax will applicable.
Good option for investor looking for tax free, safe,long term periodic income.