Indian Railway Finance Corporation – IRFC – financing arm of Indian railways – which was formed with an objective to finance development needs of Indian railways. IRFC will issue Secured, tax free bonds through one or more tranches in FY 2015-2016.
IRFC will issue tax free bonds worth Rs.1000 crore through Tranche-1 with option to retain over subscription up to 4,532 Crore which will open for subscription on Dec 08, 2015.
Imp Dates:
Issue Open Date:Dec 08, 2015
Issue Close Date:Dec 21, 2015.
Coupon Rates For Category IV Retail Individual Investors: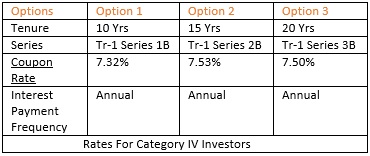 Credit Rating

: "AAA" From CRISIL, ICRA,CARE.

Listing

: @ BSE and NSE.
Tax Free bonds offers annual interest payment so its good for annual periodic income purpose.
Investors can sell bonds in secondary market as per market yield any time after listing.
 Tax free interest @ 7.53% can be considered as Good interest income option in current scenario.
Subscribe this issue if you are in high tax bracket, holding good amount of cash and need a long term periodic income.It is suggested to subscribe the bonds for longer term rather than speculative listing gains.