Muthoot Finance – Non – Deposit taking Non-Banking Finance company,Leading Gold Loan company – have come up with issue of Non -Convertible Debentures – NCDs.
Muthoot Finance will raise aggregate 400 Crore through this issue.
NCDs will be listed on BSE and can offer liquidity to investors.
Imp Date:
Issue Open Date: August 18, 2014.
Issue Close Date: Sept18, 2014.
This issue will offer different options for investors – Monthly Interest,Annual Interest and Cumulative.
Monthly Interest Option – Individual Retail Investors:
If Investor invest Rs.1Lakh then approximate monthly interest [with 11% – 60 months ] will be Rs.916...it will slightly differ every month as it will be based on number of days.In case of physical mode if annual interest exceeds 5000 then tax may be deducted at source. Investors who are eligible can submit form 15G or 15H to avoid tax deduction at source.OR contact registrar of issue for more detaills.
Annual Interest Payment Option:
Cumulative Option: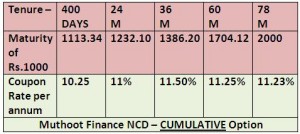 One can view that money can get doubled with last option 78Months
IMP NOTE:
NCDs in cumulative mode are compulsorily in Demat mode so if you want to invest in cumulative option you need to have a demat account.
Security:
NCDs are secured Excluding 78-Month Cumulative option – IDBI Debenture Trustees are debenture trustees of this issue.
Credit Rating : AA-by ICRA –  indicates Higher safety and stable issue.
Company Networth :
Company have reported a good growth in Networth in last 05 yrs.
Muthoot Finance – Operating Profits:In Crores
Muthoot Profit Net Profit in Crores- After Tax and Depreciation:
One can find some deep in Net profits –probably because of RBI restrictions on loan disbursements.
Muthoot Finance is well established company with cumulative growth in net profits more than 25% in last 05 years..Still investors should have awareness about external factors like Gold prices,Regulations etc which affect company's performance.Issue offers better interest rates and one can think to invest small part of fixed income portfolio in this issue.