Recently one query popped in my mind – what would have my investment if I have invested in all open ended schemes of any particular AMC…I have here considered schemes of ICICI Prudential Mutual fund.All Open ended Equity schemes- all equity diversified,sectoral,ELSS schemes and funds with international exposure are considered.
Suppose Rs 1 lakh invested in each fund at NFO and last column indicates current valuation as on July 15, 2014: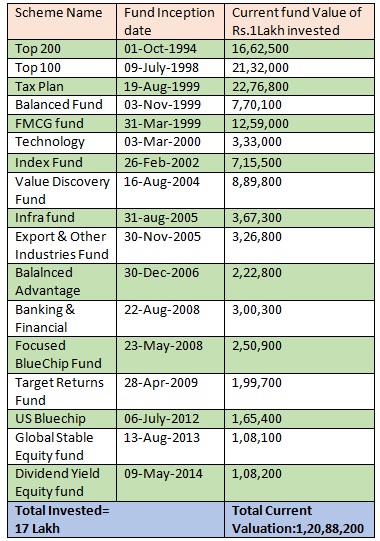 So if I have invested Rs.1Lakh in each scheme at NFO,my current valuation would have more than 1 Crore.
What would be XIRR:
XIRR is major of returns when cash flow period is not uniform.Cash flow won't be uniform as NFOs have launched at different times and each fund have offered different returns over a period of time.So for overall portfolio returns we will use XIRR returns.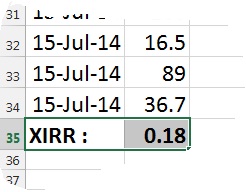 So overall portfolio returns – XIRR would be: 0.18 means : 18% annualized.
Its matter of debate whether one should invest in NFOs or not…( for me its objective is important than whether its New or ongoing) ..by the way it would have fantastic wealth creation if any one have invested consistently in last two decades.
Pl Note :Schemes of  ICICI Prudential Mutual fund chosen for reference only.Don't have any bias towards schemes of ICICI Prudential.One can not guarantee repeat performance of any mutual fund scheme.