Investors may aware that DSP Blackrock Mutual fund have recently come up with an open ended fund of fund scheme the concept of which is purely based on Asset Allocation.
This scheme will invest in other Equity and Debt funds of DSP BlackRock's mutual funds as per allocation suggested by the model.
The concept of this plan is relatively new and aimed towards better Risk Management through asset allocation with debt and Equity schemes of DSP Blackrock mutual fund.
Whole concept is based on Yield – Gap ration – in which fund will track Nifty Earnings Yield and G-Sec Yield and take asset allocation decision.
Readers can view more about Yield Gap Ration – on fund house' website Here.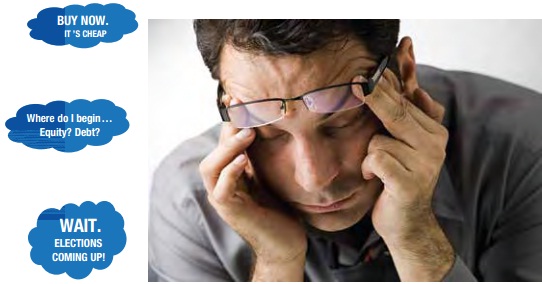 Though this is good idea , certainly there are pros and cons of this plan and we have listed few below –
Pros –
This plan is based on Yield – Gap model which takes in account both G-Sec yield and Nifty Earnings yield to identify the asset allocation strategy.This model is time tested and historically proved if consistency is maintained.E.g In January 2008,most of the investors have heavily invested in Equity but this model was suggested lower percentage of equity allocation and higher debt.Similarly in 2009,this model have suggested higher equity allocation throughout.
Risk management : due to dynamic asset allocation strategy,it will help conservative investors to protect from severe downside.
No manual intervention : Its too much difficult to maintain dynamic asset allocation manually.Here system will take decisions and no manual,emotional resistance.
This model looks superior than other models like pure P/E and others.
This plan offers you certain process and it will be beneficial if you are a Long Term Investor.
Cons – 
This scheme will have certain limitations  –
This model will not able to take decision based on sudden swings.So investors may not able to get complete advantage of sudden equity rally if it is there.Number of times markets move just based on sentiments and emotions.
This scheme is not much suitable for aggressive investors and Risk Management is basic approach.
Overall scheme performance will depend on performance of  – DSP BlackRock's Equity and debt schemes…though they have good track record,risk of underperformance of underlying schemes can not be denied.
Due to Dynamic nature of Yield -Gap model, one can not deny negative effect on underlying equity and debt schemes in which this fund intends to invest…Manager of underlying funds may need to take care of liquidity needs for  – switches from equity to debt and vice – versa.
Investor need to have sufficiently longer term approach – to have fair benefit of this model.
Debt taxation will be applicable – which includes – 10% capital gain tax (or 20% considering indexation).
Overall, good concept.This fund is open ended fund.NFO will close on Jan 31 but soon it will open for subscription again.