REC tax free bond issue which was opened on Aug 30, 2013 have got good response from investors and issue is going to close earlier.It was scheduled to close on September 23, 2013 but now closing date is revised to 16/09/2013 due to complete subscription of issue.
Except for Category-I candidates this issue was completely subscribed on 10th September.
REC have offered interest rate of 8.71% where interest received will be free from interest rate.
Notification issued by REC for early closure of the issue: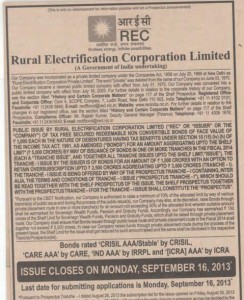 After REC ,HUDCO have also come with an issue of Tax Free Bonds and its offering highest tax free interest rate of 8.76%.
We have already made a compact post on HUDCO tax free bonds.Pl Click here to view the details of HUDCO Tax free bonds.