If you are looking for a short – medium period like one year then there are good funds available across mutual fund houses.
Peerless Short term fund is one of the recommended short term fund if investment period is about one year and higher.This fund was launched in August 2010 and have good proven track record.This fund aims to keep the maturity period around 1-2 years and ideal period of investment is at least one year.

Performance Of Peerless Short Term Fund:
One can check that this fund have consistently out performed against the category fund.
Exit Load: 1% if redeemed before 9 months and Nil thereafter.
Rating Allocation:
Fund have allocation according to credit rating is as below: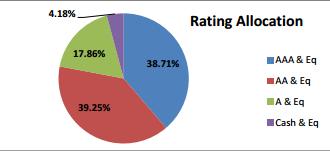 Average maturity period of this fund is 1.26 yrs and this fund have about 36% of instruments maturing before one year and about 60% maturing above one year and remaining as cash.This fund is ideal for investor want to invest for period of at least one year…otherwise for period of less than one year they can consider other Ultra-short term or Liquid fund.