India Infoline Finance Limited – Part of well known India Infoline group has come with an NCD issue starting on 17/09/2013.
IIFL is looking to raise Rs.1050 crore through this NCD issue.
IIFL Finance is Non-Banking Finance Company registered with RBI.
Details of IIFL NCD Issue are as follows:
Imp dates:
Issue Start Date:17/09/2013.
Issue Close date:04/10/2013.
IIFL Credit Rating: CARE AA & ICRA AA-.Indicates stable.
Security: secured.
Tenure:03 yrs and 05 yrs.
Coupon rate:12%. Effective yield for monthly interest option comes to be 12.65%.
Interest payout frequency: Annual / monthly.No cumulative option.
Mode of holding: Physical or demat form .
Min application amount: Rs.5000/-.
Security:Investor will get pari-passu security along with other first charge creditors.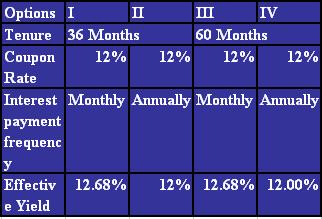 Last year IIFL ncd issue was closed earlier before due date.Investor can think to invest in this issue for a period like 03 years.