When I read name of this fund,my first impression was that is it New Fund Offer???But after I dig more about the fund I found that this is the old fund and just name was changed recently.
This fund was launched as "HDFC Long Term Equity Fund"  nearly seven year back as 05 year closed ended scheme and since last two years it was in open ended mode.
Recently fundamental attributes of the fund were changed and so the name was.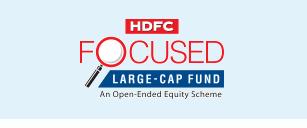 As name indicates,focus of the scheme will be more on selected stocks only.
As per new attributes,this fund will invest in well established large cap companies of which top 10 stocks shall be at least 50% of the net assets.
As per current portfolio,these top 10 stocks are:
State Bank Of India.
ICICI Bank
BPCL
ITC
Infosys Limited.
Reliance Industries Limited.
Cipla Limited.
TATA Motors DVR.
JP Associates Limited.
Coal India Limited.
So when investor invests Rs.100 in this fund min Rs.50 shall be invested among above stocks as per current portfolio…this portfolio will be actively managed so changes are quite possible.
In comparison with other large cap fund HDFC top 200 this fund looks more aggressive, offer more risk as well have capacity of  higher returns also if market done well in future.