Todays post is deviating away from personal finance & its about visitors & their behavior on the blog.Today we will take a look at the general nature of visitors & topics among personal finance which are mostly viewed.
Investors have their own behavior as well personal finance readers also.
Outline Of General Visitor nature:
Avg Bounce Rate

for this blog is 58%….which means that more than half of the visitors come to blog,Get / don't get information they are seeking & they just leave.They are not interested in any other topic.Use of outdated browsers like IE6  is also major reason of bounce rates.
Next important observation is that visitor won't deviate from query in its mind..suppose visitor comes with query related to Fixed Income..he may also browse other posts related to fixed incomes but hardly interested in other topics like mutual funds ,mediclaim etc
Next imp observation is visitors hardly read the post ..they just take a view,understand the theme & leave.
Visitors are not as much

 interested in Calculation parts

…Most of the visitors  simply don't like maths.
For any blog…. search engine is always a major source of visitors…so if any blogger gets search engine penalty then blog becomes virtually dead.
Most Viewed Topics In Personal Finance:
Tax Saving: My experience from this blog is that Tax saving related queries are mostly searched…Page on this blog which is related to 80-CCF benefits have been viewed more than 4 Lakh times..take a look at the screen shot below: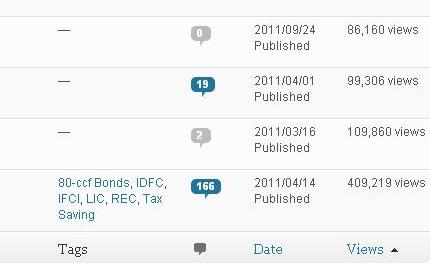 One can view that other pages hardly crossed page views of 1 lakh ..80-CCF page have witnessed 4 times more page views than its closer competitor page.As 80-CCF benefit is not available now,page views of this page have sharply decreased in same proportion.But conclusion is that taxation related matters are always front runners.
Next to Tax Saving then topics related to Gold & LIC are viewed more..Don't know why but peoples are interested in Gold/Silver prices  since decade  or Best Gold ETfs..as well in the name of reviews of LIC products one can easily get spike in page views….

it isn't mean that LIC & Gold are still preffered choices of investors…

In relation to Fixed income products or mutual funds topics related to mediclaim / Health insurance are generally not viewed as much…

Is it 

 mean that we are ignorant about health insurance..

Occasional

issues like NCDs

also get temporary but high page views & such current events should not be missed by any personal finance writer.
This outline is mere from experience on this blog & not necessarily its generalized.Other blogger may have some different observation & there are always exceptional cases as well….