HDFC have recently introduced Insta SMS investing facility where investors who have registered for this facility can invest just through SMS.
This facility is quite useful as far investors investing in liquid funds as emergency fund.E.g.HDFC Cash management Funds are good choice for short term investing and do not carry any entry or exit load.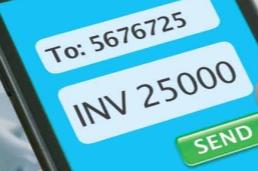 We have drawn following important points about HDFC Mutual fund Insta Invest Facility:
 Investors can do only Purchase & redemption transactions only through this facility.
This facility can be only used for One scheme,one plan & one option per mobile number.
KYC compliant investors can only use this facility.
Maximum transaction of Rs. 5 lakh can be made through this facility.
Currently eligible banks for this facility are: Allahabad Bank,Axis Bank,Bank Of Baroda,bank Of India,Citi Bank,Corporation Bank,Federal bank,ICICI,IndusInd Bank,IDBI,Kotak Mahindra,PNB,South Indian bank,SBI,State Bank Patiala,UCO bank,Union Bank Of India,United Bank Of India.
Investors need to send message in following format for transactions:
To purchase : Type "INV <Amount>" & send SMS to 5676725.
To Redeem:Type"RED <Amount>" & Send sms to 5676725.
7. Investors can opt for regular as well as direct mode of schemes for the transactions.Please note if your distributor has opted for transaction charges then these charges will be deducted per transaction.
8. Cut Off times as specified by SEBI for the amount specified will be applicable for NAVs.
One need to register for this facility.HDFC InstaInvest  Form can be Viewed Here.
Now you don't need any online account or don't need to transact online as most of the mutual funds are coming with such latest technologies which offers investors ease of investing.
Also View: m-Investing facility from DSP Black Rock mutual fund