Blog Stats for Year 2012: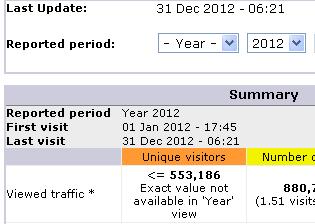 One can view that more than 5 lakh visitors have visited the blog in 2012.We generally don't track the visits on daily basis neither run behind the things like Alexa rank etc.Still today is the last day of year and find necessary to have stats for the year and present for the visitors.
This blog was started in initial months of 2011 and sole intention was to offer information about 80-CCF bonds present last year and we were well succeed in the motto.
Saving-Ideas is self hosted wordpress based blog and its much low cost affair. I need to pay  for domain name and web hosting charges.Overall cost of managing this blog is around Rs.150/- per month.I get to use monthly bandwidth of 10,000 MB from this cost and we consume around 8000MB monthly.
As quoted in Bhagvat Geeta- You have a power to act only & You can not influence the Results…….we are just doing our work with as  possible sincerity and looking to continue in future also….