Heading of this Compact post is based on one of the E-mail received by HDFC Mutual Fund and its about HDFC mutual funds – HDFC Children Gift Fund.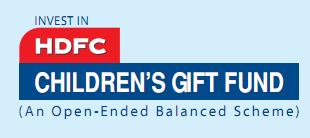 Few months back,we have also done post on this fund & it can be Viewed here.
Today,I repeat the post about HDFC Childrens Gift fund , as I personally like this balanced type of fund and any one eligible for it may think to invest in it.If any one is not comfortable with the Equity component then option of Savings fund is also available for such investors.
Addition to  benefits of balanced fund,this plan also offer parents Accidental Insurance Cover of Rs. 10 lakh .
Such kind of funds always offer investor some " Goal " or " Purpose "for their investment and help to invest for longer term.
More features and the recent performance  of  HDFC – Children's Gift Fund can be viewed here.
ICICI-Prudential Mutual Fund also offers such kind of funds and more details of these funds can be viewed Here.
Disclaimer – Purpose of this post is only to share information about this fund.This is not any kind of advertisement or investment advise. Please read the risk factors & other details before investing.