Today is  Womens day..Here,we are not interested in the non-issues like "Men or Women- who can take better financial decisions" or anything similar but just We would like to take this opportunity to acknowledge HER work .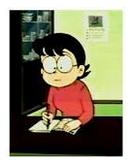 This image is of Nobita's Mother from Doraemon….She is doing some paper work …In actual episode,  she is planning the monthly budget and optimizing it by cutting down the unnecessary expenses.This short post is just a small attempt to acknowledge HER tough job and natural financial planning capabilities.
// International Womens day is actually on 8th March,by mistake I publish it as 6th March.