Whenever anyone wish to start investing through SIP,mind always stuck to one point:Which one date to select?Normally most of the fund houses allows 4-5 SIP dates for monthly SIP.
In general criteria is on which date there will be balance available in my bank account and my experience is that majority of investors choose 10th date of every month as salary is credited in first week of month and there is enough balance always on that date.
For long term investor,I also agree that SIP date is not much relevant,also past history may not repeat in future.Then also we will try to evaluate that which SIP date have more helpful in past.
For Token,we will calculate the SIP values for four dates 02nd,10th,18th and 25th of every date for last five years from Feb.2007 to Jan 2012.
We have assumed that Rs.3000/-invested  in SENSEX for last 5 yrs at different dates as indicated above.
The results can be summarized as follows: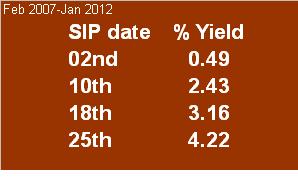 The cumulative flow for different dates can be shown as follow:
We will not draw any conclusion here but result shows for last 5 yrs investor who have invested in last week of month have benefited more.