Till 2012,tradition was that stay away from market in the month of January as market has not performed well past few years.
We will take a short look at performance of Sensex in last few years in month of January.For token,I have considered the calculation since Jan 2000.
Sensex Performance  in Month of  Jan:
Last column of table shows % returns offered by sensex for period between 01st Jan -31st Jan for particular year.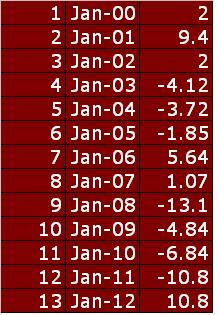 You can view that for last four years sensex have given negative returns and since Jan 1994 it has failed to offer double digit returns but in Jan 2012 it has happened.