I am sure that number of mutual fund investors know how to demand consolidated statement of mutual funds serviced by Karvy computershare,CAMS and Franklin Templeton.
But also I am sure that few investors do not know about and this post is for them so that they should not depend on their distributor for the statements.
Visit www.camsonline.com:

When you enter the camsonline.com,home page will be opened.
2. Find Link on home Page for Online Services for investors: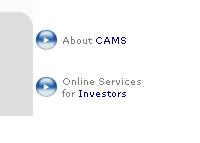 3.Wnen you click on online services for investors link a new page with option of mail back services is opened.

4.When you click Check it Out! then window will open with option to choose the funds serviced by CAMS only or consolidated statement by mutual funds serviced by CAMS,Karvy and Franklin.

5.When you click the link then window to enter e-mail id will open Just enter your e-mail Id .As well statement received will be password encrypted enter the password which you need to enter when it will receive to you via email.

Just we need to remember few things before opting for statement:
You will receive statement only if e-mail id is registered with the registrar.
You will not get details of other mutual funds not serviced by Karvy,CAMS and Franklin [E.g. Sundaram].
It will take time depending upon load on the server.
Portfolio statement from KARVY MUTUAL FUND SERVICES:
If you have registered your email id then you can demand online statement any time from Karvy website…inclusive of Sundaram Mutual fund and those serviced by CAMS or Franklin Templeton.
Pl click here to demand online mutual fund statement.You need to enter your Email Id registered with mutual funds and password which you will need to open passward protected mutual fund statement.